Thursday, June 27, 2019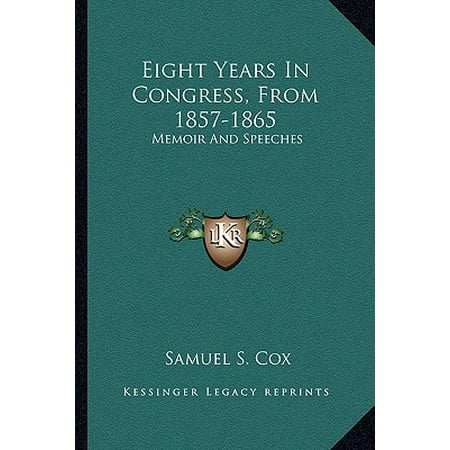 A bill to establish a Bureau of Freedmen's Affairs was introduced in the House of Representatives on February 17, 1864, by Massachusetts Republican Rep. Thomas D. Eliot. Democrat Rep. Samuel S. "Sunset" Cox of Ohio responds to the bill, in part, below.
www.Circa1865.org The Great American Political Divide
The War Power is All Power
"Mr. Cox said: "Mr. Speaker . . . the member who introduced it [Mr. Eliot] recalled to our minds the fact that we opposed the confiscation bill for its inhumanity. This bill is founded in part on the confiscation system. If that were inhuman, then this is its aggravation. The former takes the lands which are abandoned by loyal or disloyal whites, under the pressure of war; while the present system turns these abandoned lands over to the blacks.
The effect of former legislation has been, in his opinion, to bring under the control of the Government large multitudes of freedmen who "had ceased to be slaves, but had not learned how to be free." To care for these multitudes he presents this bill, which, if not crude and undigested, yet is sweeping and revolutionary.
It begins a policy for this Federal Government of limited and express powers, so latitudinarian that the whole system is changed. If the acts of confiscation and the proclamations, on which this measure is founded, be usurpations, how can we who have denounced them favor a measure like this?
This is a new system. It opens a vast opportunity for corruption and abuse. It may be inaugurated in the name of humanity; but I doubt, sir, if any Government, much less our Government of delegated powers, will ever succeed in the philanthropic line of business such as is contemplated by this bill.
The gentleman from Massachusetts appeals to us to forget the past, not to enquire how these poor people have become free, whether by law or by usurpation, but to look the great fact in the face "that three million slaves have become and are becoming free." Before I come to that great fact, let me first look to the Constitution.
My oath to that is the highest humanity. By preserving the Constitution amidst the rack of war, in any vital part, we are saving for a better time something of those liberties, State and personal, which have given so much happiness for over seventy years to so many millions; and which, under a favorable Administration, might again restore contentment to our afflicted people. Hence the highest humanity is in building strong the ramparts of constitutional restraint against such radical usurpations as is proposed to be inaugurated by measures kindred to this before the House.
If the gentleman can show us warrant in the Constitution to establish this eleemosynary system for the blacks, and for making the Government a plantation speculator and overseer, and the Treasury a fund for the Negro, I will then consider the charitable light in which he has commended his bill to our sympathies.

The gentleman refers us for the constitutionality of this measure to the war power [of Lincoln], the same power by which he justifies the emancipation proclamation and similar measures. We upon this [Democratic] side are thoroughly convinced of the utter sophistry of such reasoning.

If the proclamation be unconstitutional, how can this or any measure based on it be valid?

The gentleman says, "If the President had the power to free the slave, does it not imply the power to take care of him when freed?"

Yes, no doubt. If he had any power under the war power, he has all power.

Under the war power he is a tyrant without a clinch on his revolutions. He can spin in any orbit he likes, as far and as long as he pleases."
(Eight Years in Congress, 1857-1865: Memoir and Speeches of Samuel S. Cox, Samuel S. Cox, D. Appleton and Company, 1865, excerpts pp. 354-356)
Posted by

Brock Townsend
at Thursday, June 27, 2019
No comments: