Sunday, January 28, 2018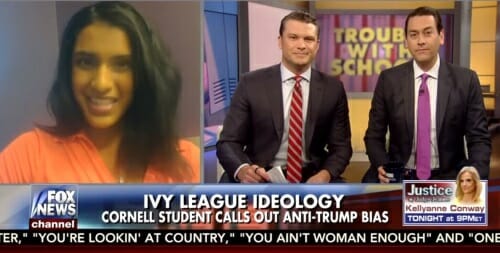 Many found it acceptable to be hateful toward me because they perceived me as 'hateful'
It is difficult to express conservative views as a college student without being called names, attacked personally, or even threatened by peers. I know because I've lived it.
The worst came after I appeared on
Fox News
in May to voice alarm over a new course at my Ivy League institution that deeply criticized Donald Trump while venerating Barack Obama.
"Based on the syllabus it doesn't seem like a fair conversation," I said about the new government course offered this past fall at Cornell
called
"America Confronts the World." The syllabus accused Trump of xenophobic nationalism while describing Obama as a pragmatic cosmopolitan
Posted by

Brock Townsend
at Sunday, January 28, 2018
No comments: