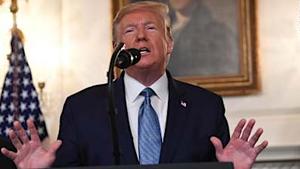 Let me skip to the end: The Democratic-majority US House of Representatives, in partisan fashion, is all but certain to impeach President Donald Trump. The Republican-majority Senate, in partisan fashion, will almost certainly acquit him. And the net result will be that Democrats will have abused the US Constitution to satisfy political passions instead of approaching impeachment as the solemn act the framers intended.
Let's be honest. The Democrats were always going to do this. From the minute we realized on election night that Donald Trump had won, they began fantasizing about
nullifying the election results.
Indeed, in the weeks leading up to the 2016 election, the Democrats' biggest concern was that Trump would not accept the outcome -- a Hillary Clinton win, of course! -- of which they were quite certain.