Wednesday, September 30, 2015
- KK no. 2218
- Same owner since 1982
- Original Grabber Blue paint
- Well preserved original build sheet
- Two original shipping invoices
- 429/375 HP engine
- 4-speed transmission
- Hurst T-Handle shifter
- Drag Pack 3.91 Traction-Lok rear end
- Competition suspension
- Trunk mounted battery
- Power steering and front disc brakes
- Day One air conditioning, cruise control, fog lights and auxiliary gauges added
- Black interior with console and deluxe door panels
- AM radio and electric dash clock
- Magnum 500 wheels with Goodyear Eagle ST tires
- Sold new at River Oaks Ford in Calumet City, Illinois
- Believed to be 32,837 actual miles
- Believed to be a three owner car
Posted by

Brock Townsend
at Wednesday, September 30, 2015
2 comments:


Tuesday, September 29, 2015
Via comment by Anonymous on
Confederate flag prompts school lockdown: Student
A good man who posted many Confederate pieces. He left us way too soon and may you rest in peace, brave warrior.
Yankees respected Confederates. Why must we despise them today?
Back in 2006, my wife and I went to a friend's house to watch Oscar De La Hoya fight Ricardo Mayorga for the World Boxing Council light–middleweight boxing championship. My wife was unfamiliar with professional boxing and was taken aback by the trash talking between the two foes, which HBO recapped during the intro to the show. "You're going to be my bitch in my bed anytime I want you," was one of Mr. Mayorga's more printable insults.
Mr. De La Hoya won handily with a 6th round TKO, to the delight of many fans and my wife as well.
But, to her surprise, the fighters embraced after the fight and appeared to let bygones be bygones.
"You are a great fighter, a great champion," Mr. Mayorga said. "I apologize for everything I said to you."
How, she wondered, could everything be so easily settled?
The fact is, settling grievances through combat is pretty common. Kids at schools everywhere still "take it outside" and are often friends afterwards. Fighters in the boxing ring, the UFC, and other combat sports routinely find their grievances settled after a fight.
This is sometimes referred to as "the warrior's ethic." If a problem can't be talked out, it can be settled by combat, often followed by mutual respect between winner and the loser.
David Yeagley, who spoke several times at American Renaissance conferences, was a Comanche activist who understood the warrior ethic:
Posted by

Brock Townsend
at Tuesday, September 29, 2015
5 comments:


Via Cousin John
For 20 years, amateur diver Bob Butler searched the murky waters of the Pee Dee River for cannons he knew had been jettisoned from a Confederate warship shortly before it was scuttled in advance of surging Union troops at the end of the Civil War.
He found one in 1995 as he dove near U.S. 301 on the Florence-Marion county line. He discovered another in 2006. He was on hand seven years later as a member of the Pee Dee Research and Recovery Team when the third cannon was located.
On Tuesday, Butler watched with quiet satisfaction as a team from the University of South Carolina raised the cannons from the muddy bottom of the river, some of the final remnants of Union Gen. William Sherman's march through the Carolinas in 1865.
"We brought a little bit of South Carolina history to the surface today," Butler said. "This closed the book on a lot of history. It's really special."
Posted by

Brock Townsend
at Tuesday, September 29, 2015
1 comment:


Via Billy
Should be in MAD Magazine.
Southern pride.
In the heated debate surrounding the Confederate Flag, the defense offered by many has been that the symbol isn't representative of a culture built on slavery and racism but is, instead, a banner representing that Southerners are simply proud of their home, their people and their culture.
"What other symbol immediately lets the world know you are from the South?" they argue.
To tackle the problem,
Studio 360, a national public radio program, commissioned a Texas-based design firm to design a new flag to represent the modern South
. With a diverse team of designers with ties to both sides of the Mason-Dixon line,
70kft
embraced the challenge with an understanding of the importance of their task.
(You imbeciles actually paid cash for this?)
Posted by

Brock Townsend
at Tuesday, September 29, 2015
18 comments:


Via Billy
Sobhy Makhoul, the chancellor of the Maronite Patriarchate in Jerusalem, told
AsiaNews
that the fire that broke out over the weekend at St Charbel Maronite Monastery (
pictured
) in Bethlehem was deliberately set. "It was an act of arson, not a fire caused by an electrical problem, an act of sectarian vandalism by radical Muslims."
The fire caused no casualties or injuries because the building is currently unoccupied and under renovation, but the damage is evident and the local Christian community is now fearful of further violence.
The arsonists "got inside a room that had a lot of stuff, including furniture," said Sobhy Makhoul, because the building is undergoing restoration work. "The fire reached it and spread quickly throughout the structure."
Police sources said that Muslim extremist groups have been active in the area and the culprits are already knows and should "be soon apprehended."
Posted by

Brock Townsend
at Tuesday, September 29, 2015
6 comments:


Via John
Over the weekend, a soldier with the National Guard was told to leave his gun outside of the Nicholasville Waffle House or he wouldn't be served. The situation is now getting national attention.
Billy Welch said that he stopped at the Waffle House Sunday morning for breakfast. He was in his Army National Guard uniform and had his gun holstered to his side. After ordering his food, Welch said that a waitress signaled for him to come over.
"I got up and I walked over to them, asked them how they were doing and stuff, and they said I'd have to take my firearm outside," said Welch. "I don't feel comfortable taking my firearm away from me. I always keep it with me and they said, 'it's one of our policies.'"
Posted by

Brock Townsend
at Tuesday, September 29, 2015
8 comments:


Monday, September 28, 2015
Disgraceful: This verifies my post on
Monday, August 24, 2015
New Rangers?
Way back in January, long before the first women attended the Army's elite Ranger School – one of the most grueling military courses in the world – officials at the highest levels of the Army had already decided failure was not an option, sources tell PEOPLE.
"A woman will graduate Ranger School," a general told shocked subordinates this year while preparing for the first females to attend a "gender integrated assessment" of the grueling combat leadership course starting April 20, sources tell PEOPLE. "At least one will get through."
That directive set the tone for what was to follow, sources say.
Via Billy "THIS IS WHAT HAPPENS WHEN THE INMATES ARE RUNNING THE ASYLUM"
Fear of the Confederate battle flag led to the lockdown of a Georgia high school last week.
A sophomore student in Polk County, Georgia, walked through his high school's cafeteria Sept. 23 with the Confederate flag on his backpack. The school went on lockdown status just hours after the white teenager had an altercation with two black students.
"They wanted to confront him about what he had on his backpack. What did they say?
'Hey man, why you doing that,'" (Probably because he wanted to, though I know your freedom must be regulated by the state these days..........)
Principal Wesley Cupp of Rockmart High School told the Fox-5 Atlanta Sept. 25.
The school decided to conduct a lockdown drill after rumors spread of additional students having the flag at school,
Fox-5
reported.
"We just did that as a precautionary situation to help maintain and control what could have been a bad situation," Mr. Cupp said, the network reported. "When you become a distraction where students can't learn because of a distraction then that needs to be removed."
Cupp said all three students involved in the incident were suspended.
Via Billy
Russian President Vladimir Putin addressed the UN General Assembly today in New York City.
Putin lectured Barack Obama on the Arab Spring disaster, something Obama supported.
"Instead of the triumph of democracy and progress, we got violence, poverty and social disaster — and nobody cares a bit about human rights, including the right to life. I cannot help asking those who have forced that situation: Do you realize what you have done?"
Via Cousin Joel
Comments are brutal, as they should be.
When the mainstream media starts to refer to a situation in the US as a police state, it's probably time to worry. TSA agent checkpoints on every block, a massive barricade enclosing the city, military and army officers on every corner, and police dogs are just a few things that show how fast a major city could be turned into a martial-law type environment. And this is all for the Pope?
According to a fascinating report from
NBC Philadelphia
(where the Pope will be for the next 2 days):
Fencing blocked off areas starting just east of City Hall, requiring people in that area to walk north to Cherry Street, where security checkpoints were set up, if they need to get inside the perimeter.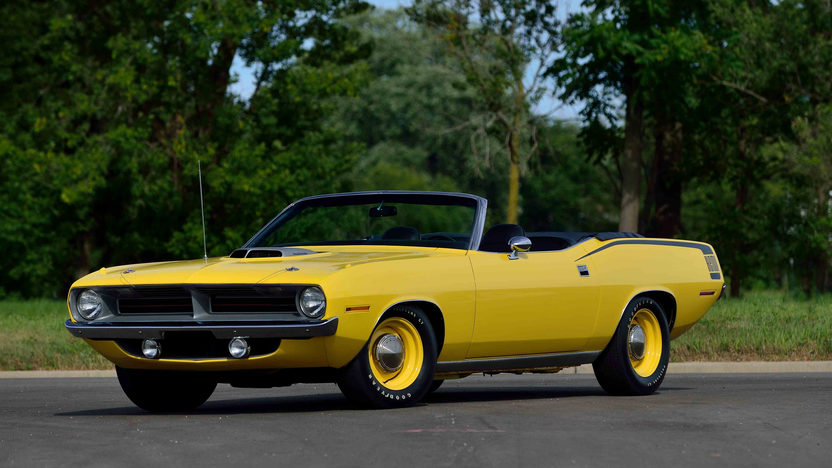 Like many notable extreme-demand vehicles, Hemi-powered Chrysler E-body convertibles were produced during a small window of time, 1970-71, and even then in very limited quantities. Today, a variety of factors have pushed these cars into the multimillion-dollar range.
A car like this 1970 Lemon Twist Hemi Cuda has the right stuff. Take mileage as a starting point; the odometer reveals fewer than 27,500 miles on this spectacular car. Extra-cost options such as the Shaker Hood, High Impact FY1 paint, and Super Track Pak also matter. Plus, the fact that this factory 4-speed car retains its matching-numbers 426 Hemi engine and mostly original sheet metal plays a big role in value as well. Couple that with very low original production figures for all Hemi Cuda convertibles, and the evidence proves the case.
********************************
(In two months of the same year in Edgecombe County, two churches, several cotton gins, a cotton factory, and many barns and homes were burned. [My county. BT])
In postwar North Carolina the Loyal Leagues, Union League, etc., of the North's Republican party were regarded as hostile organizations and designed to instill hatred in the freedmen against their white neighbors – for political purposes. During 1869 "there was an epidemic of barn-burnings in several counties of the State" charged to the Leagues as they encouraged blacks to destroy the agricultural livelihood of white farmers who were Democrats. Southern leaders advised Northern Republicans that if they disbanded their Loyal Leagues, the Klan would immediately disappear.
Bernhard Thuersam, www.Circa1865.com The Great American Political Divide
Loyal Leagues, Klans and Precedents
"The part played by the Loyal Leagues and similar organizations [Union League] in provoking the Southern people to defensive expedients was recognized by fair-minded Northern newspapers, and when in April, 1868, General [George G.] Meade issued an order for the suppression of the Ku Klux Klan, the New York Herald commented:
"The order of General Meade . . . will meet with the approval of all who espouse the cause of order and good government. But the General must not exercise his power on that organization alone. He must rigorously suppress the secret "Loyal Leagues" of Negroes; for they are equally, if not more, pernicious in their influence than the white man's society.
The arrogance of the Negroes and their attempt to reduce the whites of the South to political vassalage by means of the "Loyal Leagues," and the many other outrages that have been committed by these same Leagues, are equally as dangerous to the peace and safety of society as are the retaliatory actions of the Ku Klux Klan."
An Alabama paper in an editorial denouncing the Loyal League said: "The League is nothing more than a [black] Ku Klux Klan . . . Let [their carpetbagger leader] break up the League and thus remove all temptation from the Kluxes to come here."
It was the usual practice for the Leagues, when they held their meetings, to throw out armed pickets in all directions about the building . . . [a white resident commented that] "The Negroes acted here just like an invading army after they had conquered everything and were going rough-shod over everything. They thought they were the big dogs in the ring."
Even so prejudiced an observer as the carpetbagger Judge [Albion] Tourgee said: "There is no doubt about this feeling, taken in connection with the enfranchisement of the blacks, induced thousands of good citizens to ally themselves with the Ku Klux Klan upon the idea of that they were acting in self-defense in so doing, and especially that they were securing the safety of their wives and children thereby."
In such a state of affairs . . . throughout the South there began spontaneously to spring up local defensive groups, generally in the form of secret societies, designed primarily to offset the aggressiveness of the Loyal Leagues.
The members of the Boston Tea Party – and the members of the Ku Klux Klan – were but following a precedent set for them in earlier days in other lands. England had known the Moss Troopers, who took drastic means of manifesting their disapproval of the iron rule of the Normans; the misrule of Louis XI of France had resulted in the formation of that powerful and mysterious organization known as the Free Companions; Italy had its Carbonari during the Napoleonic wars.
Freedom loving people everywhere, when overwhelmed by oppression against which they have no their defense, have never hesitated to resort to secret and, if needs be, violent organizations for relief."
(The Invisible Empire, The Story of the Ku Klux Klan, 1866-1871, Stanley F. Horn, Houghton-Mifflin, 1939, pp. 26-30)
At a private ceremony in Henrico County this morning, the Virginia Flaggers raised our 12th Roadside Memorial Battle Flag, and the first on Interstate 64 in Virginia. On land leased from a private citizen, a 10' x 15' Army of Tennessee Battle Flag was raised on a 50' pole to the cheers and shouts of those in attendance.
Via
avordvet
Anyone who joins the services these days is an idiot.
A Green Beret ordered discharged after he and his team leader body-slammed an alleged Afghan child rapist is speaking out against the Army's effort to punish him, as he fights to stay in the service.
"Kicking me out of the Army is morally wrong and the entire country knows it," Sgt. 1st Class Charles Martland said, in his first public statement on his case.
The detailed written statement, requested by Rep. Duncan Hunter, R-Calif., was shared by the congressman's office with FoxNews.com. Hunter, who has advocated on Martland's behalf, intends to submit the statement to the House Armed Services Committee.
An Arabic-speaking European woman who traveled on a train departing Budapest alongside migrants reveals how the "refugees" robbed Hungarians, used children as human shields and threatened to take her hostage and rape her.
Aida Bolevár lived in the Middle East for five years and is fluent in Arabic. At the start of the video, she stresses that she is not trying to make the migrants look bad by telling her story.
Arriving at Keleti railway station in Budapest, Bolevár said she was shocked to see a mass of "filthy" people who refused to let her enter the building and tried to steal her luggage while hurling insults.
Posted by

Brock Townsend
at Monday, September 28, 2015
12 comments:


Via comment by Quartermain on
The Death of Property Rights: Migrants In, Germans...
Catholic priests, Vatican representatives disregard reporter posing as Syrian refugee seeking aid
Those that follow Pope Francis in his growing endorsement for immigration remember very well when he called on the faithful last June, from his General Audience in St. Peter's Square, to ask God to forgive those "people and institutions that shut the door" on immigrants who "seek shelter a long way from home" – words that seem to break the long lasting tradition of an opulent Church which preaches giving to the flock, but doesn't always follow through.
In September 2015, the Pontiff continued what The Guardian defined as his "outspoken support for migrants" by stating that: "the gospel calls us to be close to the smallest and to the abandoned."
These words, unfortunately, are nothing but propaganda.
Many may believe Bergolio's Jesuit lies, but while the Pope was mesmerizing the US, a very good TV report, produced by the Italian channel LA 7, has opened the eyes of the public in Italy to how generous the church really is to immigrants.
Via Jonathan
Will the last sane person to leave New York please remember to shut off the lights?
Nassau County District Attorney Madeline Singas has an interesting policy in place for the prosecutors working for her office. They're not allowed to have handguns. I don't mean they can't bring them into court or into their office. They can't own them and they can't apply for a permit. It's a condition of employment with the DA's office.
The world has officially gone insane
. (NRA-ILA)
This week's edition of the Appalachian Messenger has articles by:
T.L. Davis
I Will Follow GOD
Doc Grouch
Anatomy & Physiology Lesson 2.12: Taking Blood Pressure When You Have All the Gear
Publius Huldah
When May Federal Courts Lawfully Strike Down State Law
Click
here
for the September 25, 2015 edition.
Via Billy
From the Gun Owners of America,
http://www.gunowners.org
I received an alert dealing with the resignation of Speaker of the House John Boehner. It said, in part, "Realizing he did not have the votes to remain in power, at the end of October John Boehner will resign as Speaker of the House of Representatives, and from Congress entirely,..But our fight has just begun…Sadly, the gears are already in motion to replace Boehner with another compromiser." Does that really surprise anyone?
Back in 2014 on
http://www.wnd.com
Joseph Farah did an article in which he stated: "It's not important that the House Speaker be perfect. He or she just needs to be faithful to the people who placed them all in office and in power.Otherwise our two-party system is a joke. Right now it's worse than a joke. It's a lie." If the truth be known, Mr. Farah, it's been a lie for a long, long time–and the joke is on the voters who think differently.
Via
avordvet
Well, duh, we're going to anyway.
The Republican Party is barreling head-first toward a worst-case scenario – or is that a best-case scenario?
The tea party wing of the party has essentially toppled House Speaker John Boehner. His replacement will almost certainly need the tea party's stamp of approval.
Meanwhile, the Republican presidential campaign continues to confound the establishment. Donald Trump, Ben Carson, and Ted Cruz together have more support than all other Republican candidates combined,
according to polls
.
I had a M2 in Vietnam. Don't guess they would have appreciated it either.........:) Imbeciles.
New Jersey native Danny Burt inherited his grandfather's M1 carbine in 2006.
Burt's grandfathered served in WWII, so the iconic rifle meant a lot to the Cumberland County resident.
In April 2013, Burt's entire gun collection — including the M1 carbine and 20 other firearms — was confiscated by the New Jersey State Police after a temporary restraining order was filed against him.
A month later, the restraining order was dropped.
When Burt, who had no criminal history, attempted to reclaim his firearms, the court ruled that "the M-1 carbine is an illegal weapon and is therefore improper to possess."
"Burt claimed the rifle had considerable sentimental value to him, and that he had no knowledge as to whether the gun was operable," the decision states.
Comment by Anonymous on
Obama's dangerous drive to make US combat troops c...
What is bemusing is the arrogance of those who deem themselves so superior to the rest of society and to every one who came before them. After all, what could some one who lived 300 years ago, know that is would the bother to read? Could it be, that those who lived way back when, did in fact know what they were talking about? To use the line from the Fall Out games; War, war never changes. Troops are still needed to take ground, and then to hold it. The basics are still the same. Soldiers still need a weapon (s), a uniform/body armor, a pack to carry things in. A woman can squeeze the trigger on a sniper rifle just as well as a man can. But when it comes to humping a ruck (with above mentioned 100 pounds of gear) in the field, where your objective is 20 klicks away, a woman just can't do it as well as a guy. This current cult of making any thing and every thing gender-blind is more than misguided, it is insane.
Take another look at the female troops in the above photo; what is going to be the likely outcome should the fighting goes from shooting to hand-to-hand combat? They should also get in touch with reality that if captured by the enemy, they WILL BE raped. Military service is hard on the body. If you have any doubts, just visit an VA hospital and take a good hard look at all the men of have premature worn out bodies. Those gals above are going to have, foot problems, bad knees, bad backs. joint pains, hearing loss, likely to have reproductive problems. emotional problems, and cancer from being exposed to toxic chemicals. Meanwhile, back at the home front, their own politicians will consider them to expendable when they are no longer useful to the moneyed interests that sent them into harms way.
As I see it, the Marine Corp just wasted $36 million on a study that if they had studied military history and their own history, they would have known that putting women into traditional male only combat roles is an insane idea. If a collage age gal can not handle and must be protected from a guy making a "sexist" comment, then what the hell is she going to do, when some guy is trying to kill her? Come back whining that her leaders lied to her? Well, no s--t Sherlock!
Posted by

Brock Townsend
at Monday, September 28, 2015
6 comments:


"Henry Grady's Father in the Battle of the Crater:
Garland S. Ferguson, of the Twenty-Fifth North Carolina, at a large Confederate reunion held at Waynesville, N.C., in October [1893], paid his tribute to Major [William S.] Grady, father of Henry W. Grady of [Athens] Georgia [Henry W. Grady became a well-known Atlanta newspaperman].
"I can never forget the 30th of July, 1864, in front of the crater. My Colonel and Lieutenant-Colonel were in the hospital with wounds and sickness, my Captain dead on the field, and my senior Lieutenants in the hospital, how good old Major Grady, with 250 of the Twenty-fifth North Carolina Regiment, and a remnant of the Twenty-sixth South Carolina, stood between Grant's army and the city of Petersburg, for two long hours, until [General William] Mahone brought reinforcements; how, with that handful of brave North Carolinians, he held back fourteen regiments of Federal troops.
The coolness and courage with which he walked the line of his men, directed the manner of their firing, and checked every advance movement of the enemy; while he saw of his best and most beloved officers and true and tried men carried from the field either dead or badly wounded; how he led the gallant charge which, after a hand-to-hand fight, drove the enemy from our works with a loss of 6,000, and fell mortally wounded just as victory perched on our banners.
Never Sparta had braver representatives or Thermopylae more courageous defense, yet North Carolina does not note how he died in her cause, or Virginia in her defense. The Petersburg papers gave credit for the victory to Mahone and the Virginians, which was won by the courage and blood of the North Carolinians under the command of Major Grady."
Major Grady's connection with the North Carolina Regiment occurred in this way: His company [G, Highland Guards] was raised close by the North Carolina line [Clay and Macon counties, and Athens, Georgia], and at that time Georgia volunteers were only taken for six months, whereas they wanted to enlist for a year, and consequently they became part of the Twenty-fifth North Carolina [Company G enlisted at Franklin, North Carolina on 8 July 1861]"
(
Confederate Veteran, November 1893, page 326)
Picnic at our pier.


Michael was the son of Reverend Harold Peters, minister of Grace Episcopal Church in The Plains. He and I were going to room together at Randolph-Macon in the fall. I was working for my father in his office that summer and remember when my mother told me of this while at my desk. I got up, walked to the front door, peered through the screen and was dumbfounded as to why there were cars still traveling on the street. He and I had double dated some that summer with two cousins, Jaque and Courtenay Green and I believe it was the next day that I picked up Jaque. She said that the last thing she remembered was playing with his big toe the night he left her to travel to Fredericksburg, but never made it as he evidently fell asleep and crashed into the front of a tractor trailer full of watermelons. He loved his Jaguar and was buried with the gearshift knob in his hand. Michael's brother, Peyton was killed in a wreck after this and his sister Polly was horribly mangled in a wreck also, but survived.
I believe this is the same sign that was visible when I was a child. Mother would call and one of the boys would deliver groceries to our house. I have wonderful memories of this and fortunately the inside is as it was those many years ago. George stumbled into Robert Duvall at the lunch counter a short while before we visited.
My aunt left me a piano and I traded it to my mother for Daddy's 1959 Ford Galaxie when he bought a '63. She gave it to this church and was placed in an auxiliary building. Years later, the building burned down and the only object left was the piano completely untouched.
Occasionally, we would go from Daddy's farm Green Acres to his other one Bleak House and stop at the Delaplane Country Store for an ice, cold orange soda. Boy, did they taste good after a hard morning's work! When Dixie and I visited this day, I noticed that the lady looked familiar and I asked her if she was a McCarthy. *She replied that no she wasn't, but was related. I then mentioned that I had grown up in Marshall and my father was Dr. Townsend to which she replied that he was her doctor and had come to her house every day for two weeks to administer a shot after she had badly damaged her left arm! This alone was worth the trip. :) *Dee Mulligan
Bleak House Road.


Where I grew up from five on. They have taken the land, placed small houses and converted the house into apartments while removing large Boxwoods that Mother grew along the road as well as her flower gardens and orchard.
Given to George's grandfather who rode with Mosby.
Above two just wonderful and placed since we were there last.
George's, Mosby Springs. Anita is a physician and reenactor. We have been pen pals for many years, but this was the first time we had met.
George's friend Mary and her Diane, the most beautiful and well mannered Great Dane or for that matter any dog I have ever been around. The two of us rode together in the rear below.
Mary took us on the back roads around her place for two hours and had a grand time. Even had an oil painting presentation brought to us from one of the stables by three delightful ladies, but for some reason the pictures I took are missing. Strange, must be Yankees..........:)
A Samurai stirrup at Mary's and she makes the best cookies that I have ever had. Should market them. :)
The Fauquier Livestock Exchange which was originally in Marshall. I used to go with Daddy for the auction every Thursday. Very sad as there are only 50/60 cattle going through each time now where there used to be 500/600. Someone mentioned that Yankees come down, buy up parcels of land and one steer while calling themselves Beef Cattle Farmers. :)