Wednesday, August 15, 2018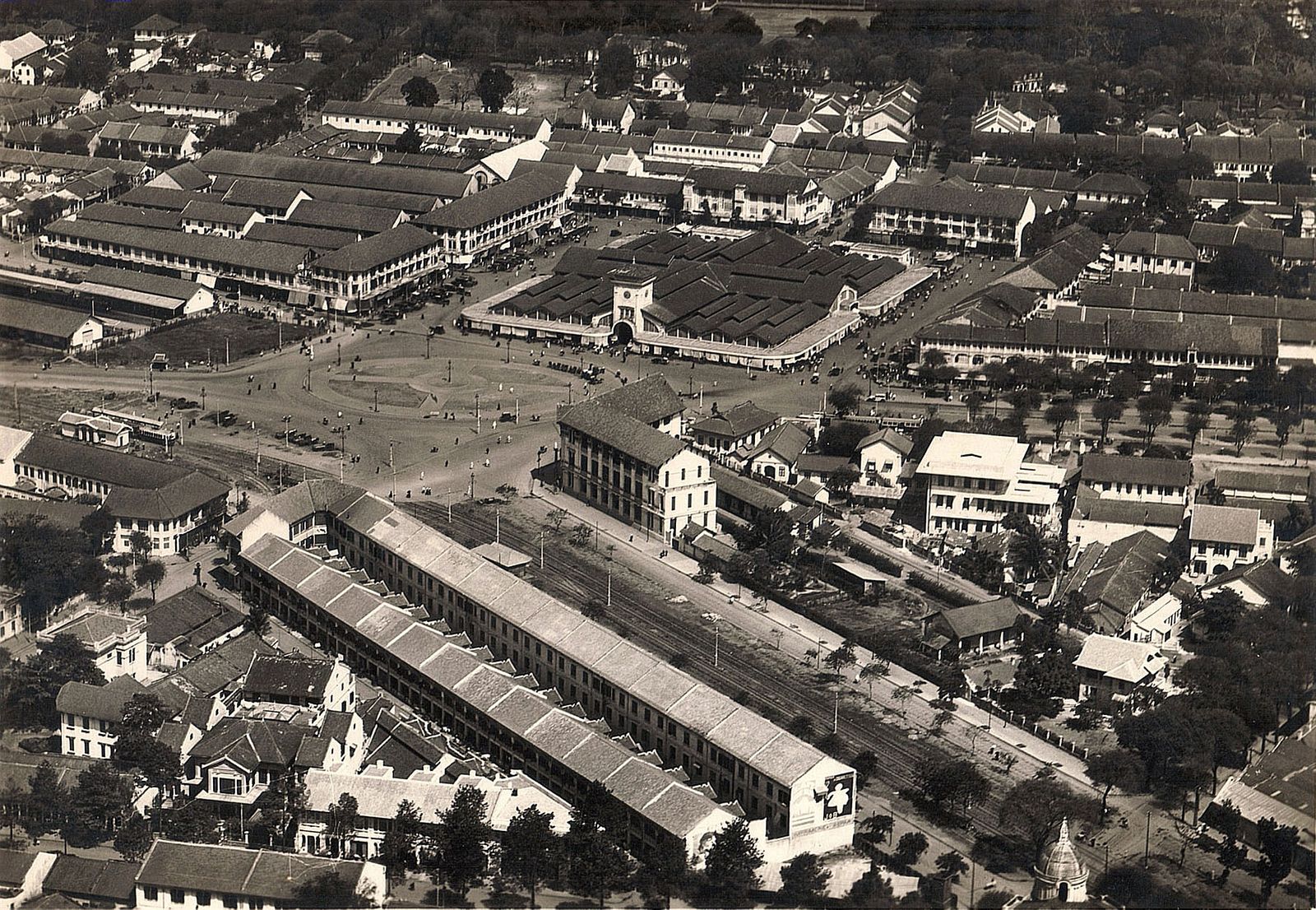 Thanks to the prevalence of photographic drones, nowadays it's a cakewalk to source aerial photos of Vietnam with just a simple internet search.
However, a century ago, observing the glory of Saigon through a bird's-eye view was no easy feat, which makes these rare sepia snapshots of the city in the 1920s an invaluable treasure.
These photos were taken by Leon Ropion, a senior technical assistant with a career in public work in the 1920s. The Frenchman and his wife, Alice Ropion, who taught at an all-girl school in Saigon
moved from Europe to live and work in Indochina more than a hundred years ago. The photo archive was
made available by Catherine Neykov
, the couple's granddaughter.
Ropion's photos might be subpar in comparison with today's high-resolution panoramic shots, but the level of details he managed to achieve was incredible considering the time the images were created.
While Saigon's landmarks like Ben Thanh Market, Saigon River and Reunification Palace are instantly recognizable, in the distance, the sparseness of the city is also evidenced: beyond the neatly planned city center, areas that are now District 4, 5 and 7 are mostly empty fields.
See what our hometown looks like almost a century ago in Leon Ropion's shots below:
Tuesday, August 14, 2018
Via Billy
On the first anniversary of the Charlottesville protests, which turned deadly in clashes between white nationalists and anti-fascists on opposing sides of whether to keep a statue of Confederate General Robert E. Lee in the Virginia city, a group of persistent activists is fighting to protect the controversial statues.
The United Daughters of the Confederacy (UDC), a 124-year-old organization, issued a rare public statement after the Charlottesville riots last summer:
"We are grieved that certain hate groups have taken the Confederate flag and other symbols as their own," the UDC's president general, Patricia M. Bryson, wrote following the August clashes that resulted in the death of counter-protester Heather Heyer and the brutal beating of DeAndre Harris.
However, while Bryson insisted that the UDC condemned anyone who "promotes racial divisiveness or white supremacy," she argued that the Confederate ancestors honored by these memorials "were and are Americans."

Attorneys for Paul Manafort, the former Trump campaign chairman who is on trial for financial crimes in federal district court Alexandria, Virginia, will not call additional witnesses to present a defense.

"The defense rests," Manafort's lead attorney Kevin Downing said in court on Tuesday.


Government prosecutors from Special Counsel Robert Mueller's office rested their case on Monday, so without a defense, the jury is expected to begin deliberations following closing arguments.'


Via John
The former pro-gun control candidate has been charged with murdering her campaign treasurer with a gun.
Kellie Collins, a former congressional candidate in Georgia's 10th District, was charged with the
murder of her former campaign treasurer, Curtis Cain
. The allegations of murder follow Collins' advocacy for "responsible" gun control laws during her campaign. WSB-TV reports that she argued for stricter legislation "to protect the community."
Police found Cain's body in Collins's apartment with a gunshot wound. Cain did not come in to work last Tuesday, prompting deputies to check in on him. Police estimated that he was dead for roughly a week.
Via John
I was at lunch last week when I overheard a couple of young women talking about the coming revolution. I thought it was a joke, at first, so I eavesdropped for a little while and sure enough, they were talking about revolution. The bossy looking one was going on about something Trump did, I missed that part, and how it was going to be the thing that "woke people up about what's happening."
My guess is the part I missed had something to do with Russians or maybe the Manafort Trial. The Left is obsessed with that now.
Since the election, the Left has been dreaming up scenarios in which the results of the election are overturned. For a long time they were sure Trump would be impeached, but that seems to have faded.
Last year my left-wing office manager was deep into the impeachment scenarios. Now the talk is of revolution, which probably fits better with their conception of themselves as the heroic resistance.
They imagine Trump as a strong man,
against whom they must resist
until the system cracks, and then the revolution begins.
This post has been linked to 10,126 times.
Via
Susan "
How's this for a microcosm of the depravity of the left... We asked people to help us identify the criminals who broke Virginia State law when they put a tarp over the Confederate Memorial in Loudoun County. Someone sent us this photo. Turns out these cowards sent CHILDREN up on the statue to do their filthy work."

Trump administration official and longtime Trump family ally Lynne Patton on Monday night offered a detailed rebuttal against claims involving her, made by former Trump administration official and reality personality Omarosa Manigault-Newman.
Manigault claimed on page 149 of her new book
Unhinged
, according to Fox News, that Trump 2016 campaign spokeswoman Katrina Pierson had heard from someone who knew political strategist Frank Luntz that Luntz had heard a tape of Donald Trump using the n-word. Manigault then writes, "Lynne [Patton] reported that she asked Trump about it on the plane, specifically whether it was possible that such a tape might exist, and he said 'no.' Then she asked him what he wanted her to do and he said, 'Put it to bed.'"
Patton shot back against Manigault-Newman's claims in a
statement
issued Monday night:

Not a parody.....
A gang of masked "youths" rampaged through Sweden's second-largest city Monday night, setting cars ablaze in an attack described as "extremely organised" and like a military operation by the Prime Minister.
Shocking
video
of fire engulfing numerous vehicles in Gothenburg spread on social media Monday evening with other
footage
clearly showing masked people in dark clothing intentionally lighting the blazes.
Police chose not to arrest the "young people" at the scene and have since contacted their parents, reports state.

Chris Cuomo announced Monday night that CNN will not condemn but instead justify political violence against anyone it defines as "bigots" — which, according to the network's editorial tone over the past two years, signals open season on all Trump supporters for violent activists like Antifa and the Black Bloc.
To legitimize political violence, Cuomo said, "All punches are not equal morally… Drawing a moral equivalency between those espousing hate and those fighting it, because they both resort to violence emboldens hate, legitimized hateful belief and elevates what should be stamped out."
This is a dramatic turning point for the far left. Not only is CNN offering moral cover for those who engage in political violence, but — thanks to the
ever-widening definition
of "hate" — CNN is also calling for the left's political opponents to be "stamped out."
The New York Madam Kristin Davis spoke to reporters on New York local FOX 5 after her grand jury interrogation by the Mueller Special Counsel.
Davis told the reporters she did not think there was "Russian collusion."

The New York Madam also told FOX 5 she felt bullied and she "felt sick to my stomach."
FOX 5 NY
reported:
Via Billy
Fake News Network ignoring reality to demonize Trump
CNN took issue with President Trump calling a recent London terrorist attack a "terrorist attack," in another example of how the fake news network ignores reality simply to disparage the president.
"President Donald Trump seizes on what he calls a 'terrorist attack" in London, even though the incident is still in the early stages of investigation," CNN tweeted Tuesday, including a picture of Assistant Commissioner Neil Basu briefing the press on the incident, where a mid-twenties man reportedly mowed down several pedestrians near Parliament.
The liberal mainstream media likes to paint President Trump as a racist every time he criticizes ANY person of color. Now we know why.
President Trump's approval rating with African Americans hit 31% on Monday.
This is a HISTORIC NUMBER
The president's approval is up 13 points since last year at this time.
Via Jonathan
Note American flag and damaged Vietnam flag
Massive but orderly protests across the country hint at the beginning of the end of Communist Party rule
On June 7, a group of about 300 ordinary Vietnamese in Phan Ri Cua City of Binh Thuan province formed the first rally against a draft law on special economic zones (SEZ). They had trouble before with an ongoing Chinese thermal power plant investment project in their own province and were opposed to more such Chinese investments.
Two days later, tens of thousands of workers at Pouyuen footwear company in Tan Tao Industrial Park, Ho Chi Minh City, went on strike against the SEZ draft law.
The following day, on June 10, many demonstrations sprung up in other cities throughout the country, including the capital of Hanoi, Nghe An, Da Nang, Khanh Hoa, Dac Lac, Binh Duong, Dong Nai, My Tho, Vinh Long, Kien Giang, and Ho Chi Minh City.
Via John
Russia Investigation:
It's beginning to look as if claims of monstrous collusion between Russian officials and U.S. political operatives were true. But it wasn't Donald Trump who was guilty of Russian collusion. It was Hillary Clinton and U.S. intelligence officials who worked with Russians and others to entrap Trump.
That's the stunning conclusion of a RealClear Investigations report by Lee Smith, who looked in-depth at the controversial June 2016 Trump Tower meeting between officials of then-candidate Donald Trump's campaign staff and a Russian lawyer known to have ties with high-level officials in Vladimir Putin's government.
The media have spun a tale of Trump selling his soul to the Russians for campaign dirt to use against Hillary, beginning with the now-infamous Trump Tower meeting.
But "a growing body of evidence ... indicates that the meeting may have been a setup — part of
a broad effort to tarnish the Trump campaign
involving Hillary Clinton operatives employed by Kremlin-linked figures and Department of Justice officials," wrote Smith.
Via Billy
Rudy Giuliani joined
Sean Hannity
on Monday night to discuss the ongoing Mueller Trump-Russia investigation.
During the discussion Trump's top attorney told Sean Hannity that the Mueller team committed crimes.
And then Rudy went off on partisan hack and former CIA Chief John Brennan.''