Via John
Can you spell "a year long paid vacation?" Medical workers, gas station workers, supermarket employees, truck drivers, etc. have been working all through the pandemic. Why? Because they are considered to provide essential societal services. ALL the medical and educational experts
say children MUST be i

n school

- but teachers don't seem to think the their kids, and by extension, their jobs, are "essential." If we following their reasoning that teaching jobs are not essential jobs, then they should do what other

non

-essential workers have done; get laid off and collect unemployment. The public should not be on the hook for paying non-teaching teachers. This is really outrageous and once again shows how little regard unionized teachers have for the taxpayers, their students, parents and even their own profession. I would pay working teachers a premium this fall, and at the same time, I would terminate those teachers who feel the world owes THEM a living (for no apparent reason). Let them go flip burgers -another job which is also considered essential. I would allow older teachers (55+) with a previously diagnosed and verified comorbidity to find an alternate way to contribute to education and keep their jobs. Clearly this is emblematic of why we pay more for education than any other nations, and have the worst results to show for it. If that isn't a damning indictment all by itself, then I do not know what is. Send this message EVERYWHERE. Teachers will bitch and moan when they read this, but too bad - either your job is essential, or it isn't.
My advice to teachers. take your pick, but by all means, get ready to go back to your essential work and stop embarrassing yourselves.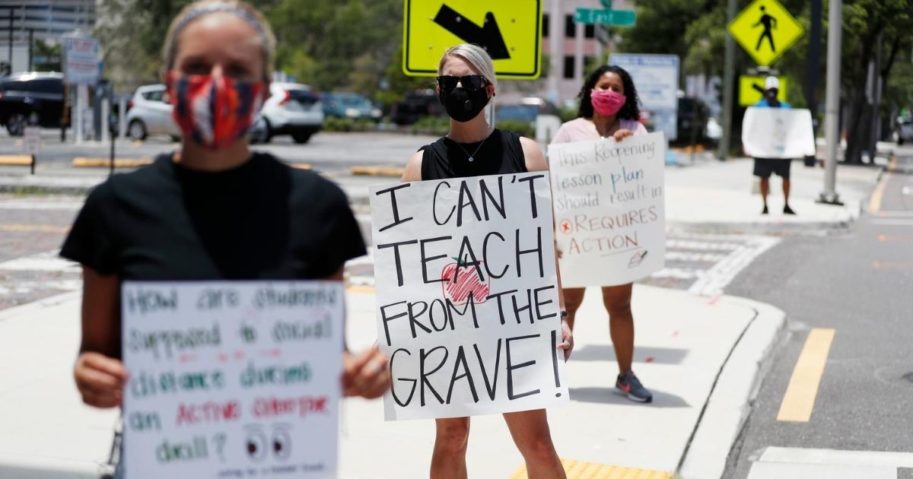 With public school districts nationwide beginning to cancel in-person learning for the fall semester in answer to COVID-19 transmission fears, a number of teachers unions already are moving the goalposts.
According to
The New York Times
, educators in the hard-hit states of Florida and California might be "wary of returning to class" this
back-to-school season
, but that concern hasn't stopped them from shooting down alternatives such as virtual learning.
Widely promoted as the logical alternative to traditional learning, online video instruction was a go-to for many public institutions when
coronavirus-related lockdowns
first took effect in late March. Several major
teachers unions
now argue, however, that the practice was stressful, distracting and detrimental to learning — and they want to see their educators provided with alternatives or a reduction in labor hours this fall should virtual learning become the standard.