Saturday, October 21, 2017
Via Jonathan
At 7 pm, precious little daylight remained when General Robert E. Lee ordered his entire force of between 30,000 and 50,000 men to make a coordinated assault against the Union position along a two-mile front.

The aggressive CSA General John Bell Hood spearheaded the attack with the famed Texas Brigade. Considered by many to be the toughest fighting brigade in the Army of Northern Virginia, the 1st Texas, 4th Texas, 5th Texas, 18th Georgia, and General Wade Hampton's South Carolina Legion led the charge that broke the Union line.
****************
It is of little wonder that there is so much divisiveness and hate among people of different races, when there is always some misguided and uneducated butt-hole that wishes to come down to OUR SOUTH and attempt to tell us, what is the right thing we should do to get along with each others particular race. My point is taken from an article that was added to an already SORRY news source,concerning our CONFEDERATE Monuments. This person thinks he can quote a few lines from some of our history books, put his own perverted twist on them and it will be alright . Wrong, Peckerhead, We do not have your yankee problems down here. If you like your way of thinking take your damn law degree and other credentials you MIGHT have and go BACK north or from what ever piece of slim you crawled from. I almost hate for this to be posted as it just might increase the already sorry distribution of a local fish wrapper, by a couple of issues. DEO VINDICE.
Mind jog from
Charlie
on
Amazing Pilot Saved His Wingman, Pushed His Damage...
Muddy Waters was all we listened to in the pool room at *EHS which used to be all boys.
*"I WILL NOT LIE. I WILL NOT CHEAT. I WILL NOT STEAL.
I WILL REPORT THE STUDENT WHO DOES."
Novel concept these days.........
Via Billy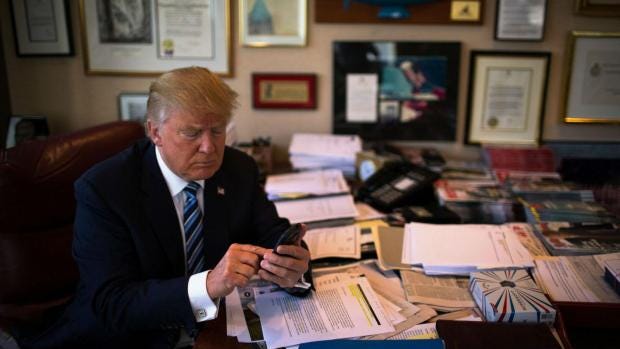 When President Trump tweets, Republicans and Democrats on Capitol Hill may see stars. But the Republican National Committee (RNC) sees dollar signs.
The RNC has raised more than $104 million since Trump took office in January, fueled by a surge in donors who have never contributed to the party before. For the first time in recent memory, Republicans are raking in more money from those small-dollar donors than they are from big-spending whales who write four- or five-figure checks.
Rep.
Frederica Wilson
's (D-Fla.) offices in Washington and Miami have reportedly been inundated with phone calls and threats following a war of words with President Trump this week.
Staffers at one point had to turn off the phones in Wilson's D.C. office after callers bombarded the phones lines, forcing many callers to only reach a voicemail, a
local CBS affiliate
reported Friday.
The number of calls has apparently reached the thousands over the past few days, according to the report, which said that fax machines were turned over to investigators as threats rolled in, pulling in the Capitol Police, Homeland Security and other law enforcement agencies to look into the threats.
He once wrote that he was "born of Burke County's bone and flesh of Burke County's flesh. Hence, outsiders may think I am biased in its favor. Be that as it may, I am satisfied that when the Good Lord restores the Garden of Eden to earth, He will center it in Burke County because He will have so few changes to make to achieve perfect creation."

This essay is from Brion McClanahan and Clyde Wilson's Forgotten Conservatives in American History
(Pelican, 2012).
In 1973, Senator Sam Ervin of North Carolina was perhaps the most respected and popular member of the United States Congress. His role in the televised Watergate hearings as chairman of the Senate Select Committee led one member of Congress to remark that he was "the most nonpartisan Democrat in the Senate." T-shirts were made in his honor; everyone had a favorite "Senator Sam" story; he starred on an album entitled "Senator Sam at Home;" his face was pressed on
Newsweek
and
Time
; fan clubs appeared; and it became "chic" to have a Southern accent and spin down-home tales of life in the rural South. Millions adored him.
But Ervin didn't buy into this heroic public image. He was seventy-seven and had already decided he would retire in 1975. He maintained a listed phone number at his residence in Washington D.C. for most of his time in the Senate (he only changed it after several unusual phone calls during the Watergate hearings led his wife to demand a new unlisted number), and he called himself a simple "country lawyer." He lived in the same house in Morganton, North Carolina most of his life (across the street from his birth home), greeted neighbors and constituents himself at the front door, and graciously accepted produce on his porch from local farmers. He would often remark that his wife of over fifty years kept him grounded. Senator Sam was truly one of the people.
Via
Minh Dinh Nguyen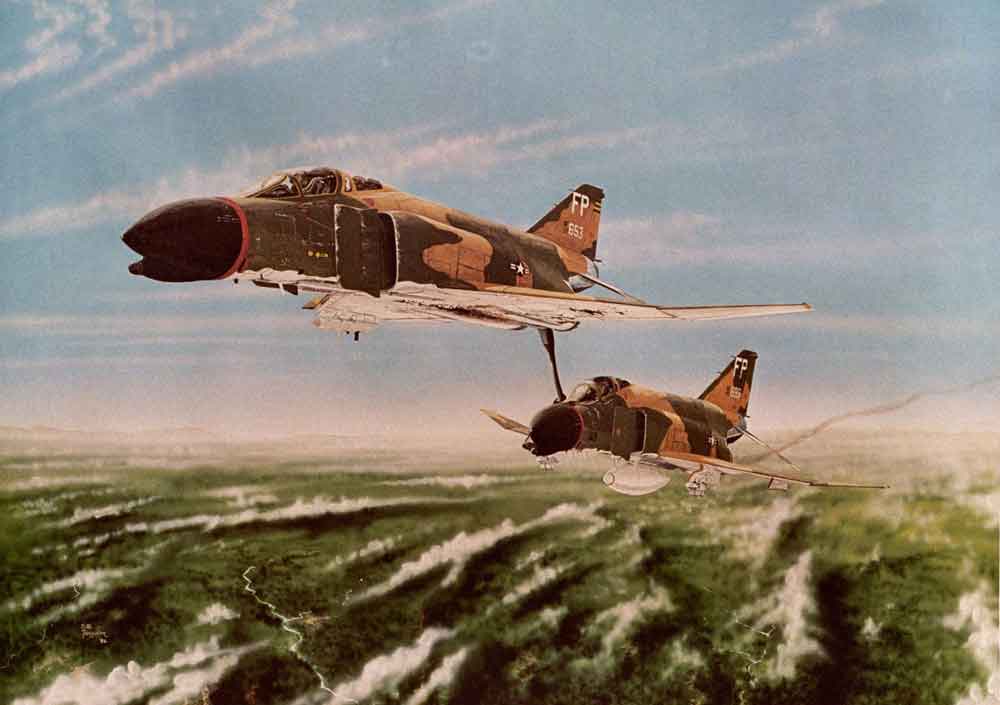 Of the 132 missions Bob Pardo flew in Vietnam with the 8th Tactical Fighter Wing, the most significant is that of March 10, 1967, when he and his with rear pilot 1st Lt Steve Wayne, were on a mission to attack the steel mills close to the North Vietnamese capitol of Hanoi. Flying as his wingman was Capt. Earl Aman and his "Guy in Back" Lt. Bob Houghton. The area around Hanoi was the best protected in military aviation history, and on that day enemy anti aircraft fire was the heaviest Captain Pardo had experienced in his many missions there.
Before they arrived at the objective, the F-4 Phantom of Captain Aman's was hit, but he managed to stay in formation. As they were closing in on the steel mill Aman's F-4 was hit by ack-ack once more and his plane started to leak fuel. Then Pardo's plane was hit as well yet he could proceed with the strike, however his F-4 was now leaking fuel too. When they were over 20,000 feet on their way out, it became evident that Aman did not have enough fuel make it to nearby Laos, where he and Houghton would be able to eject with a fair chance of being rescued by friendly troops. If they were to eject over North Vietnam, the chances of evading escape were slim and capture and, if they were lucky, a lengthy stay in a POW camp would await them.
Could it be? Is that a 2017 Ford Lightning? Well, if you ask Georgia's Pioneer Ford and the number of people lined up to buy one, the answer to that question is an emphatic yes. We hadn't seen a Ford that wears the Lightning nameplate since 2004, when the 380 hp, Supercharged 5.4 Triton motor was discontinued, to the dismay of adoring fans. At the time, the Ford Lightning was considered the world's fastest truck, and ever since it's been missed by fans far and wide. Until now.
A trip down to a small (6,779 pop.) Georgia town named Breman will get you as close to a new version of the Ford Lightning as the automotive world has seen in nearly 14 years. That's a long time to be without the outgoing Lightning's supercharger whine, and Ford hasn't shown us anything to indicate they're interested in reviving the nameplate. The automotive manufacturer seems to be too busy stuffing twin-turbo motors into trucks like the Raptor to mess with the likes of a new Lightning.
That's where Pioneer Ford steps in and builds fans a small, regular cab, rear-wheel-drive V8 truck just for them. The Ford Lightnings these guys build are the real deal; that's a fact, Jack.
To secure Lincoln's reelection, Assistant Secretary of War Charles A. Dana later testified that "the whole power of the War Department was used to secure Lincoln's reelection in 1864 (Hapgood's Life of Lincoln)." Dana was a prewar socialist who lived at the notorious Brook Farm commune, hired Karl Marx to write for Greeley's Tribune, spied on Grant for Lincoln, and was the one who ordered manacles be bolted on President Jefferson Davis at Fortress Monroe.
Bernhard Thuersam, www.Circa1865.com The Great American Political Divide
Rock of a New and More Perfect Union
"Lincoln's second election was largely committed to the War and Navy Departments of the Federal government, he having been nominated by the same radical Republican Party, practically, that nominated him at Chicago in 1860; and George B. McClellan was the nominee of the Democratic Party.
Lincoln made criticism of his administration treason triable by court-martial, and United States soldiers ruled at the polls. General B.F. Butler's book gives full particulars of the large force with which he controlled completely the voters of New York City; and McClure's book, "Our Presidents," tells "how necessary the army vote was, and was secured"; and Ida Tarbell says: "It was declared that Lincoln had been guilty of all the abuses of a military dictatorship."
R.M. Stribling's "From Gettysburg to Appomattox" gives undeniable proof of Lincoln's conspiracy with his generals to secure his reelection: and Holland's "Lincoln" says that "when Lincoln killed, by pocketing it, a bill for the reconstruction of the Union which Congress had just passed, Ben Wade, Winter Davis and Greeley published in Greeley's Tribune (August 6) a bitter manifesto, "charging the President, by preventing this bill from becoming a law, with purposely holding the electoral votes of the rebel States at the discretion of his personal ambition"; and Usher tells how "pretended representatives from Virginia, West Virginia, and Louisiana were seated in Congress;" and (August, 1864) Schouler says: "An address to the people by the opposition in Congress accused Lincoln of the creation of bogus States."
General [John C.] Fremont, the preceding nominee of Lincoln's party for the presidency, charged Lincoln with "incapacity, selfishness, disregard of personal rights, and liberty of the press;" also "with feebleness, want of principle, and managing the war for personal ends."
Lincoln's success was not won by the North, for a large part of its people were against Lincoln's policy of coercion. So, seeing voluntary enlistments ceasing, and the draft unpopular, by offering large bounties and other inducements, Lincoln secured recruits as follows: 176,800 Germans, 144,200 Irish, 99,000 English and British-Americans, 74,000 other foreigners, 186,017 Negroes, and from the border States 344,190, making a grand total of 1,151,660 men.
It is readily seen that without this great addition to Lincoln's Northern army he would have been "in bad," for, as it was, the North was almost on the point of "quitting" several times.
In an article in the [Confederate] Veteran, October, 1924 ("On Force and Consent") Dr. Scrugham [states:] "The United Daughters of the Confederacy have rendered a signal service to the perpetuation of government based on the consent of the governed by keeping alive the memory of the bravery of those who died that such government might not perish from the Southern States. Their work will not be completed till they have convinced the world, after the manner of the Athenian Greeks, that the Greek memorial to Lincoln in Washington, DC is dedicated to the wrong man." Amen.
Finally, let it not be forgotten, that this principle of government by the consent of the people was the rock on which our fathers of 1776 built the "new and more perfect" Union of States; and later, was the fundamental principle of the Union of the Southern Confederacy . . ."
(Events Leading to Lincoln's Second Election, Cornelius B. Hite, Washington, DC, Confederate Veteran, July, 1926, excerpts, pp. 247-248)
"Custer's First Last Stand" and the Battle of Trevilian Station, Virginia, June 11 and 12, 1864.
Following the days of brutal fighting during the Overland Campaign at the Wilderness, at Spotsylvania Court House, along the North Anna River, and at Cold Harbor, Union General Grant sent his cavalry corps under General Philip Sheridan on a raiding party west of the opposing armies entrenched at Cold Harbor. His chief purpose was to cut the Virginia Central Railroad and assist another Union army moving toward Lynchburg.
Confederate Generals Wade Hampton and Fitzhugh Lee set out in pursuit of Sheridan, meeting him at Trevilian Station. The two-day battle, the largest all-cavalry battle of the war, resulted in a decisive Confederate victory, and, two months later, in the promotion of Wade Hampton to the command of the cavalry corps replacing the fallen J. E. B. Stuart.
Via John
This following story is from liberal lie-center, "Huffington Post" It clearly demonstrates how the left uses its pretzel logic to distort reality into whatever they want reality to look like. HuffPost knows most libs can't think critically, and many are intellectually lazy and therefore, easily manipulated.
I wish the writer and the sympathetic readers of this following article would try to board a plane without a "strict" photo ID. That is needed for passenger safety. Now, ask yourself, is voting less important than flying? Does voting not need safeguards as flying does?
Virtually every other nation on this planet requires "strict voter ID" in order to vote.
Some countries even use biometrics to make identification fraud-free. Ask yourself, why is voter ID an issue solely in this country? What are leftists trying to protect by keeping voters from proving who they are at the time they vote? Cui bono?
~J.....
Report: Voter suppression may have contributed to Trump's election victory In Wisconsin
"The stunning results of the 2016 presidential election continue to be analyzed, with a new Mother Jones report alleging that Donald Trump won the crucial state of Wisconsin likely because of voter suppression.
At the heart of the controversy is the state's strict voter ID law, passed by Republicans in 2011, which requires residents to show a specific form of identification like a driver's license or passport before being allowed to vote."
Makes it look tough to have the correct ID, right? The author of this article makes it seem as though only a driver's license or a passport is an acceptable form of ID. So, I decided to find out how true that is and went to Wisconsin's state board of election site to find out how true that is.
This is what I found.
If you have one of these photo IDs, you are ready to vote! If you do not have one of these forms of photo IDs, learn how to get a FREE state ID card.
Important things to know:
There is no such thing as a "Wisconsin Voter ID Card." The new Voter Photo ID Law uses existing photo IDs for people to prove their identity before voting.
The address on your ID doesn't have to be current. And the name on your ID doesn't need to be an exact match for your name in the poll book. (So, Richards who go by Rich, Bobs who are also Roberts and Susans with IDs for Sue can all relax.)
Of course, there are certain requirements. Your ID should look like you. Even if you've colored your hair, shaved your beard or lost some weight, as long as your photo ID reasonably resembles you, it should be accepted.
The New York Times reports that while supporters have attributed this and similar measures to preventing voter fraud, some conservative lawmakers have reportedly admitted that the requirement helps to prevent minorities and lower-income adults -- who are more likely to be Democrats -- from participating.
[Really? Who said this? Where are the names? Where are the links, the citations?]
According to Mother Jones, "In Wisconsin and beyond, voter suppression played a much larger role than is commonly understood."
[Again, really, does Mother Jones or HuffPO have ANYTHING to factually back up such an astounding and damning allegation? - in a word, NO]
"I would estimate that 25 to 35 percent of the 41,000 decrease in voters, or somewhere between 10,000 and 15,000 voters, likely did not vote due to the photo ID requirement,"
[An estimate? Based on precisely WHAT? Wishful thinking?]
Neil Albrecht, Milwaukee's election director told the publication. "It is very probable that between the photo ID law and the changes to voter registration, enough people were prevented from voting to have changed the outcome of the presidential election in Wisconsin."
[Probable? This from a Democrat? Again, wishful thinking?]
And this, my friends, is why we need an actual honest and independent media in this nation. as a nation, we can no longer live with the incessant propaganda of the Fake News conglomerate owned by the Democrat Party.
Corrupted "news" outlets like HuffPost and Mother Jones are emblematic of the widespread decline in journalistic standards. They are carrying journalistic water for a corrupted political process and party. They are fomenting racial division within our nation, the ultimate effects of which are unknown but potentially horrendous for all of us.
Mother Jones, like all leftist propaganda sites, plays the race card whenever possible, no matter how absurd it may be. Whites only? How are we to heal the enormous rift within this nation with this level of published irresponsibility?
The (alleged) "media"
It is a masquerade.
It is a charade.
It is sad.
It is dangerous.
It must stop.
Soon.
~ J.....
Via David
Friday on MSNBC's "MTP Daily," filmmaker Ken Burns said
many Confederate monuments were "all about the reimposition of white supremacy" after the Brown v. Board of Education Supreme Court decision causing the desegregation of public schools. (Useful Idiot. The vast majority of monuments were put up long before.)
Burns said, "There is a professor — Barbara Fields — from Columbia University, and she says the civil war is still going on. Not only still going on, but it can also still be lost. Regrettably, it can still be lost … We haven't resolved this the question of race."
He continued, "So the monuments is a big deal and we have to understand it. First thing is, just check the date that monument went up. If it's the 1880s and '90s, take it down. It's all about the reimposition of white supremacy. When we say the south and my heritage, remember in a 1861, 9 million people in the south. Four million are slaves. They are not interested in monuments to the Confederacy, a disloyal thing. Remember, the Confederacy is responsible for more loyal American deaths than Hitler or Tojo. We're celebrating who our government considered traitors, who were never recognized, the Confederate States of America. The official name of the United States government, what we call the Civil War, was the War of the Rebellion. We were suppressing a rebellion. So, there's lots of monuments put up then, and at that point, the Dixie flag, not the flag of the Confederacy, but one battle flag of Northern Virginia went into Mississippi. Then it went into all of the other flags in the South in 1954. Now what happened in 1954, Chuck, that would have caused them — to have a reactive thing to suggest -"
He added, "The Supreme Court decision that triggered the white supremacists. This is not talking about taking away our heritage.What we need to do as Americans, we need to stop the dialectic about it and realize we can expand. Charleston understands this. This was this lily-white city that was tourism for the Antebellum stuff, they have included African-Americans in the narrative and it's thriving as ever before. You pull back the camera. We're not cutting out of your history, we just want to includes other histories. Don't want to portray blacks as passive bystanders to the Civil War but active, dedicated self-sacrificing soldiers in another war of self-liberation. It's a good story. And you could just add it on."
Via Mike
.........She is only about 21 but very well informed, Bright, articulate, and courageous."
Avialae Horton (Based Southern Belle) is a young conservative activist. She attended the Charlottesville Unite the Right rally and talks about her experience there and the subsequent media coverage.
Via Billy

I don't believe in coincidences. Not when it comes to crimes. Especially when they involve political corruption.
No such thing as a coincidence. Doesn't exist.
Yet, we are led to believe it was merely a
coincidence
that Bill Clinton just happened to be on the tarmac of an Arizona airport at the same time as then-Attorney General Loretta Lynch. We are supposed to accept that their private meeting on board Lynch's plane had nothing whatsoever to do with the criminal investigation of Hillary Clinton which the A-G was overseeing at the time.
Via Billy
Is special counsel Robert S. Mueller III, appointed in mid-May to lead the investigation into suspected ties between Donald Trump's campaign and various shady (aren't they all?) Russian officials, the choirboy that he's being touted to be, or is he more akin to a modern-day
Tomas de Torquemada
, the Castilian Dominican friar who was the first Grand Inquisitor in the 15th Century Spanish Inquisition?
Given the rampant media partisanship since the election, one would think that Mueller's
appointment
would lend credibility to the hunt for violations of law by candidate, now President Trump and his minions.
But I have known Mueller during key moments of his career as a federal prosecutor. My experience has taught me to approach whatever he does in the Trump investigation with a requisite degree of skepticism or, at the very least, extreme caution.