My grandfather and mother.
********
May 10, 1911
Confederate Memorial Day
Mosby Hall


I remember when Daddy

(Joseph Powell Pippen - WBT)

gave this speech. He stood on the porch of granny's home. In the yard there were long tables spread with white table cloths. Seated at these tables were Confederate Veterans, one of whom was my grandfather, Captain John Pelopidus Leach, Company C, 53rd NC Troops, Lt. Colonel and Chief of Staff, 3rd Brigade, NC Division, United Confederate Veterans.

("Captain" Leach was an honorary title. He was actually a private in the defense of Petersburg. He surrendered at Appomattox and walked home with his black friend, Needham Leach, to Pittsboro, NC crossing the Haw River at Byrnum's Mill in a bateau - WBT)



These tables were laden with delicious food of all kinds, but the pimento sandwiches appealed to me most of all! Maybe I had never had any. I thought that when I grew up, I would make a tray full and eat my fill. We young children (I must have been the youngest, as I had not gone to Saint Hilda's) waited on the tables.

To hear real Confederates give the Rebel Yell was a bloodcurdling sound. Richard Bales group's rendering of this is like a lullaby in comparison. To hear our own valiant, brave soldiers made us want to pick up a gun and kill the first Yankee in sight.

After the dinner, we dressed in white dresses and red sashes (although I was never allowed to wear a red sash, as my hair was red. I wore a blue sash.) marched to the cemetery and placed flowers on the graves of our glorious dead who had defended their homes and families until they gave the last full measure of devotion.

We were overpowered - never whipped.

Ellen Douglas Pippen Townsend


(Written as an adult; however she was four and one half years old at the time of the speech - WBT)



WBT = William Brock Townsend. Joseph Powell Pippen was my grandfather.



2. "I say we cannot know your suffering, but this we do know; We love and honour you, veterans, and are justly proud of the heritage you have given us. Just so long as warm blood flows in the veins of man, so long will the words 'Confederate Veteran' cause that blood to tingle with glorious pride, and, if there be one among us, born in our glorious Southland who is not so thrilled, every drop of stagnant blood proclaims him bastard to the South-a coward to all the world."

Joseph Powell Pippen, Esq.

(My Grandfather)



Excerpt from his speech on August 10th 1911 to a Confederate Veteran gathering at "Mosby Hall," Littleton, NC the home of my great grandfather, Private (Lt. Col.) John Pelopiodus Leach, who was in the assault upon Fort Stedman where they were promised a gold medal if they succeeded in taking the fort. On December 8, 1888, General John Brown Gordon, then the governor, wrote him from Georgia as follows:

My Dear Sir:

Your letter of recent date recalled the thrilling incidents around the historic trenches of Petersburg. I remember the promise of the gold medal and it would have been forthcoming if the South had won her independence. But as fate decreed otherwise you will have to be content with the small favor you ask in lieu of the well won medal. The record of the true soldier will outlive the glittering gold promised and I trust the heroes of Hare's Hill will be accorded their just meed of praise when the history of the Southern conflict is written.

With cordial regards in which Mrs. Gordon joins, I am

Yours faithfully,

J. B. Gordon

When "Captain" Leach died in 1914 a monument was erected to him in Littleton NC which stands to this day. It depicts two hands shaking, one white and one black, with the inscription "This Is What He Meant, All Men Up. Erected by His Colored Friends."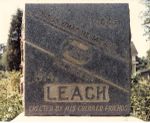 Conf. Mem. Day-05, 10, 1911 (My Grandfather & Mother)