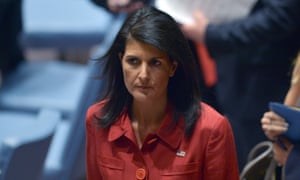 They know no shame or lie they will not tell.
Nikki Haley, the US ambassador to the UN, has said that she sees regime change in
Syria
as one of the Trump administration's priorities in the country wracked by civil war.
Defeating Islamic State, pushing Iranian influence out of Syria, and the ousting of Syrian president Bashar al-Assad are priorities for Washington, Haley said in an interview on
CNN's State of the Union
, which will air in full on Sunday.
"There's not any sort of option where a political solution is going to happen with Assad at the head of the regime," Haley said, while reiterating that defeating Isis was still the number one policy goal. "If you look at his actions, if you look at the situation, it's going to be hard to see a government that's peaceful and stable with Assad."