It's Been A Long Hard Road 2010 Tour, Cape Carteret, NC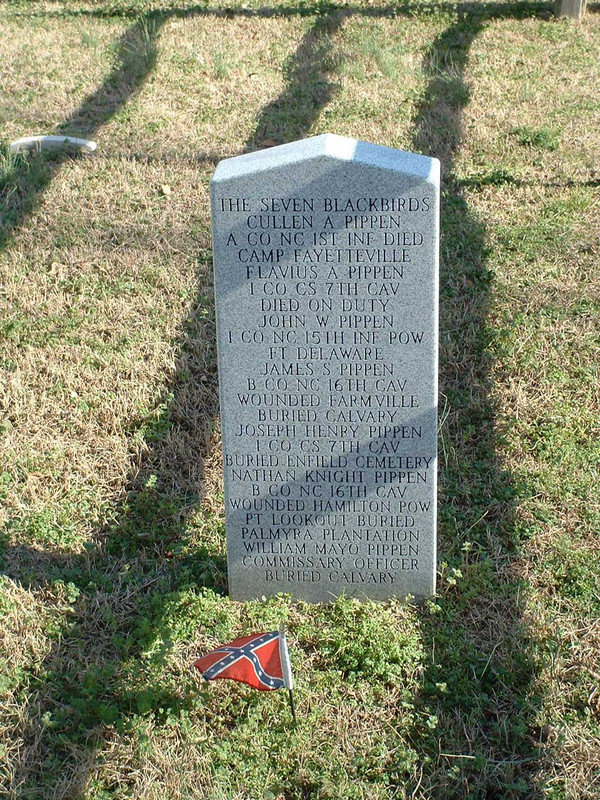 (My great grandfather and great uncles. BT)
T had a difficult time writing it for about a year, then was in a graveyard one day and immediately sat down and penned it all.
Seven Blackbirds from Border Ruffians Southron Steel CD
Seven Blackbirds sittin' on a fence
Took up arms for their loved one's defense
Seven brothers all left home
Throughout the war their valor shown.
To their grandfather, mother and sisters
Letters to home were written
Those letters survive and it's a fittin'
So does the photo of them on the fence sittin'.
The Pippen boys, no different than others
'Jined the fight, they went as brothers
Their mother knew they would not all return
Deep in her heart that sorrow did burn.
One fell early, another soon followed
The places they fell became hallowed
Four brothers remained, they fought on
In a few short months another was gone.
The Blackbirds fought 'till the fightin' ended
Barefoot and worn they walked home defenseless
They found their mother and sister waitin' there
Sorrow and sadness filled the Carolina air.
In Tarboro County the family lives on
In the same home place where The Blackbirds begun
The Pippen family shows no sign of end
And I for one am most proud to call 'em friends.
Seven Blackbirds Copyright T Warren BMI, Red Dirt and Redskin Music, 2005.
Written on family information provided by Brock Townsend, Tarboro NC.