Via David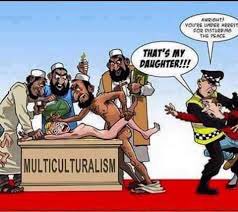 Some 30 Muslim men thought that the woman was in violation of Islamic sharia law, by being in Sweden unaccompanied by a man. They thought that she should therefore be raped and her teenage son killed.
Two Swedish citizens were convicted by a Gothenburg Court of joining an Islamist terror group in Syria and murdering two captives. Video evidence showed one victim being beheaded. "Every night when I have gone to bed, I have seen a head hanging in the air." — Court Chairman Ralf G. Larsson.
Sometime during the night, the victim was awakened by the Iraqi as he raped her. The woman managed to break free and locate a train attendant. At first, the woman did not want to call the police. "She felt sorry for him [the rapist] ... and was afraid he would be deported back to Iraq."
One week after Sweden raised its terror alert level to the highest ever, the police raised another alarm -- saying their weapons are simply not good enough to prevent a potential terror attack.