Via Jeff
An announcement on the Turkish state broadcaster TRT says that a curfew has been declared across
Turkey
and that airports are closed. The announcer says they are being made to read a statement by the military.
The statement promises a new constitution for the country and says that democracy and the secular rule of law had been undermined. Martial law has also been imposed, it adds.
More @
The Guardian
*************************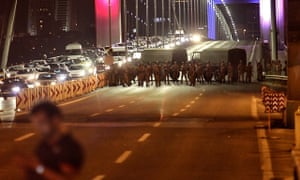 News of an
attempted military coup in Turkey
, with soldiers manning strategic points in Ankara and Istanbul and sudden announcements in the media, is a throwback to more unstable times – but appears to reflect growing unease in a country disenchanted by the rule of an unpopular president.
In the immediate background are terrorist attacks blamed variously on Islamic State and the Kurdish PKK, escalating as the war in neighbouring Syria has dragged on into its sixth year. In early June, 11 people died and many more were badly injured when a car bomb exploded in central Istanbul. Two weeks later,
a suicide bombing at Istanbul International airport killed 42
and left more than 200 wounded.
Information was sketchy but
Recep Tayyip Erdoğan
has alarmed many with his staunchly Islamist and increasingly authoritarian views, especially in the military, which has traditionally seen itself as a guardian of the country's secular heritage, embodied by Kemal Atatürk, the founder of the modern republic. The president's rhetoric has polarized the country and inflamed ethnic and sectarian tensions.