Via John
No one should ever forget the "tarmac meeting" between a compromised AG Loretta Lynch and Slick Willy his-self. It showed the fix was not only 'in' - it was going to be done in full view of everyone and therefore be as incredibly dismissive of both common sense and the American People. That is how confident these criminals are that they now own us. Hill and Bill have laughed their asses off at our expense. They've done it many times before and plan on continuing to do so for as long as we let them.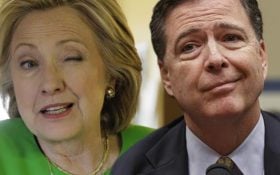 Opponents of Democratic presidential candidate Hillary Clinton were shocked when no charges were filed against her by the FBI following the investigation into her controversial homebrew email server.
Now, one conservative law expert thinks he knows why – the FBI was ordered to exonerate Clinton at all costs.
"Why the FBI would look the other way in the face of destruction of evidence and obstruction of justice is very telling," Judge Andrew Napolitano said in an appearance on Fox News' "America's Newsroom" Monday.