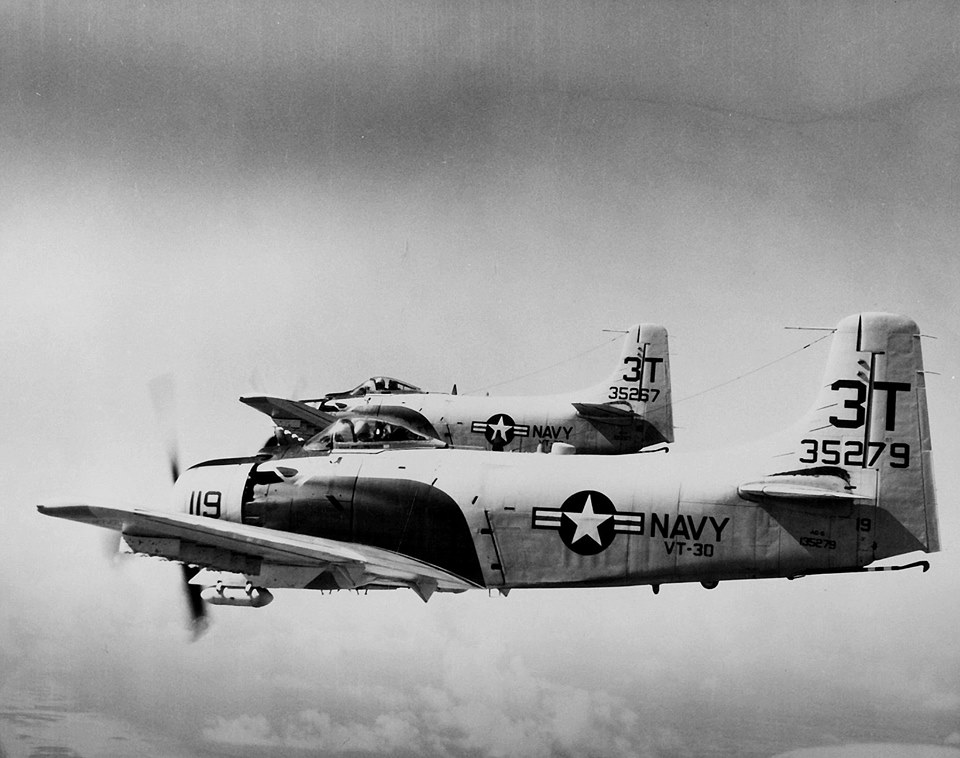 The last propeller U.S. Navy attack aircraft
to disappear from the decks of the
flattops
was the Douglas AD Skyraider.
This airplane had a unique capability: even when it carried its full internal fuel of 2,280 pounds, a 2,200-lb torpedo, two 2,000-lb bombs, 12,5 inch rockets, two 20 mm guns and 240 pounds of ammunition, the Skyraider was still under its maximum gross weight of 25,000 pounds.
Entered in service just in time to take part in the Korean War, the Skyraiders in the improved A-1H version were quite slow; nevertheless in spite of performance not even comparable to those of the other assets in the air wing's strike group, the propeller-driven attack aircraft managed to shoot down two MiG-17s during the early part of the Vietnam War.
In fact, some of the most unusual kills of the conflict did not come from the
F-4s
, F-105s, or
F-8s
, but from the Korean War-era piston-engine Skyraiders, thanks to the four M3 20 mm fixed forward-firing cannons capable of firing 800 rounds per minute, that fitted the A-1Hs.
The first of these victorious engagements took place on Jun. 20, 1965, when a flight of Skyraiders from the Strike Squadron 25 (VA-25) Fist of the Fleet, took off from the USS Midway (CVA-41) supporting the rescue of a downed
USAF
pilot in the northwest corner of North Vietnam were attacked by a flight of MiG-17s.