Via Billy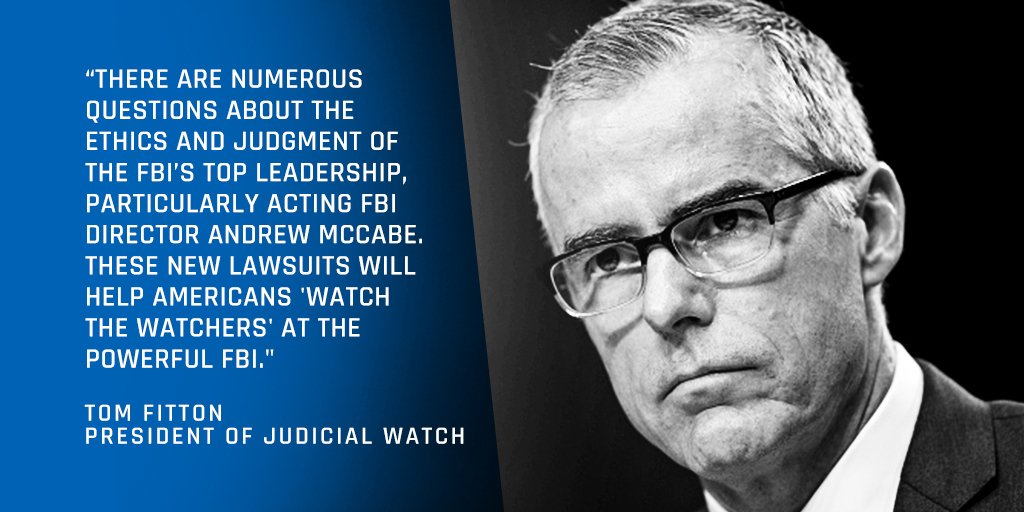 First lawsuit seeks communications between FBI and McCabe concerning "ethical
issues" involving wife's political campaign; second seeks McCabe communications
with Virginia Gov. Terry McAuliffe; third seeks McCabe travel vouchers
Judicial Watch today announced that it filed three separate Freedom of Information Act (FOIA) lawsuits against the U.S. Department of Justice seeking records for current FBI Acting Director Andrew McCabe relating to his political activities, travel vouchers, and employment status. The first two lawsuits specifically seek records of McCabe's political activities involving his wife's failed campaign for political office and interactions with Virginia Gov. Terry McAuliffe.
The first FOIA lawsuit, filed on July 24 (
Judicial Watch v. U.S. Department of Justice
(No. 1:17-cv-01494)), seeks the following:
Judicial Watch
Any and all records of communication between FBI Deputy Director Andrew McCabe and other FBI or Department of Justice ("DOJ") officials regarding, concerning or relating to ethical issues concerning the involvement of Andrew McCabe and/or his wife, Dr. Jill McCabe, in political campaigns;
Any and all records related to ethical guidance concerning political activities provided to Deputy Director McCabe by FBI and/or DOJ officials or elements.