Via
Bill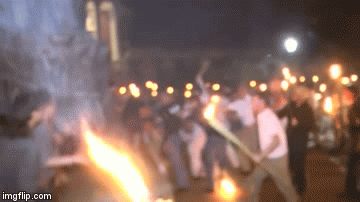 Two shtos above via
Susan
Hundreds of white nationalists – and those who oppose them -- were expected for a "Unite the Right" rally in Charlottesville, Virginia, on Saturday after a federal judge's ruling Friday cleared the way for the event.
The judge's ruling sparked a pre-rally march Friday night on the University of Virginia campus, resulting in clashes between marchers, protesters and police.
The unrest prompted Virginia Gov. Terry McAuliffe, a Democrat, to place National Guard members on standby, and encourage Virginians to stay away from Saturday's event.