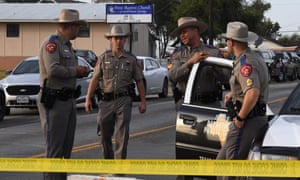 The suspect in the shooting at a church in Sutherland Springs, Texas, reportedly sent what an official has described as "threatening text messages" to his in-laws before the attack.
"There was a domestic situation going on within the family and the in-laws," Texas Department of Public Safety spokesman Freeman Martin said, as reported by
Reuters
.
"The mother-in-law attended the church. We know he sent threatening ... that she had received threatening text messages from him."
Wilson County Sheriff Joe Tackitt confirmed during an interview with CNN's "New Day" Monday morning that the suspect's in-laws did attended First Baptist Church "from time to time," but were not in attendance on Sunday.