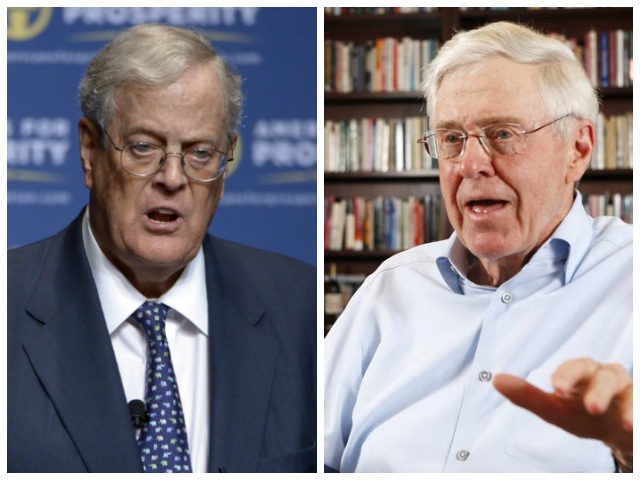 Billionaire plutocrat and GOP mega-donor Charles Koch says President Donald Trump's tariffs on aluminum, steel, and thousands of Chinese-made imports are "ridiculous" and "unfair" to foreigners.
Koch, who funds a network of organizations with his brother, David Koch, told the media during a conference with donors over the weekend that Trump's ten percent tariff on imported aluminum and 25 percent tariff on imported steel was not fair to foreign countries and foreign workers.
The Kochs' free trade absolutism is vastly
opposed
by Republican and conservative voters, who are the most likely to support tariffs to protect American jobs and industries.
The latest Morning Consult Poll
revealed
about 71 percent of voters
say
cheap overseas labor displacing U.S. jobs has played a "significant role" or "somewhat of a role" in the steep decline in manufacturing employment years ago.
In a June Harvard/Harris Poll, 83 percent of Republican voters say they
support
tariffs on imported products like automobiles and electronics. Additionally, 81 percent of conservatives said they too supported tariffs, along with 61 percent of Americans living in rural communities.
Even when GOP voters and conservatives are told that Trump's tariffs may lead to higher consumer prices, the vast majority continue to support the fair trade agenda. Nearly 75 percent of Republicans said they would still support the tariffs amid higher prices, and 70 percent of conservatives said the same.
*************************
President Donald Trump dismissed the billionaire Koch brothers as "globalist" and a "total joke" on Tuesday.
"The globalist Koch Brothers, who have become a total joke in real Republican circles, are against Strong Borders and Powerful Trade," Trump wrote on Twitter. "I never sought their support because I don't need their money or bad ideas."
Both Charles and David Koch have been
highly critical
of Trump's immigration and trade agenda, especially at the beginning of their summer retreat with donors.
Trump ridiculed them for supporting some parts of his agenda – especially his tax cuts – but not for his efforts to protect the American worker.