Good, now if he would only climb a tree and leave us alone.
Russia chose a lawmaker and former figure skater who tweeted a racially charged photo of President Obama to light the Olympic cauldron on Friday.
Irina Rodnina made international headlines last September when she sent out a doctored photo of Obama and first lady Michelle Obama
appearing to stare at a banana
.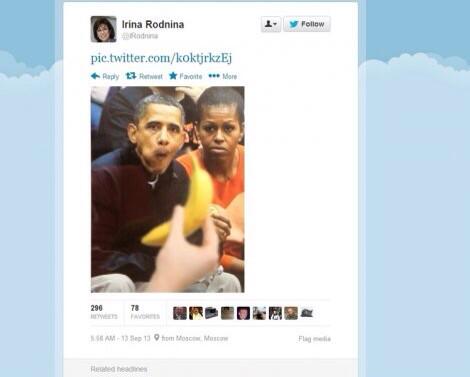 The photo outraged the Obama administration and prompted U.S. Ambassador Michael McFaul to denounce Rodnina's "outrageous behavior, which only brings shame to her parliament and country."
Opposition leader Alexei Navalny retweeted the photo, with the caption: "Look at the jokes Russian MPs make."
Rodnina erased the tweet soon after but defiantly refused to apologize.
"Freedom of speech is freedom of speech, and you should answer for your own hang-ups," she wrote at the time.