Via Billy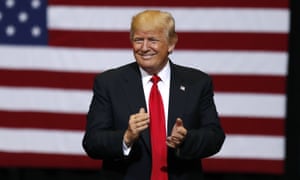 As the president seizes on policy wins and seeks to turn the Russia spotlight on Obama and the press, some experts say liberals are in for a rude awakening.
Sgy Michael Verardo, who lost an arm and a leg while serving with the US army in Afghanistan in 2010, says he was failed by the Department of Veterans Affairs (VA). He had to wait 57 days to get his prosthetic leg fixed and three and a half years for adaptations to his home. But then came
Donald Trump
.
"Thank you, President Trump and [Veterans Affairs] Secretary [David] Shulkin for ensuring that we are not forgotten and that we will receive the care we need and deserve,"
Verardo said at the White House recently
.
Trump, signing an act to protect VA whistleblowers, revelled in the moment, using his fingers to mime a gun and mouthing his catchphrase "You're fired!" at Shulkin. Then he smiled: "We will never use those words on you, that's for sure."
The audience in the East Room laughed dutifully. This is the parallel universe that Trump occupies whenever he can, a universe of achievements, applause and adoration, a safe space where he is monarch of all he surveys and his punchlines land. In his version of Washington, he is the
Henry V-style man of action
to Barack Obama's indecisive, cripplingly intellectual Hamlet.